HD Receiver NanoXX Omega HD+Premiums, HDTV and SDTV Satellite Reception of Premiums Quality, Outstanding super sharp picture both in MPEG-4 and MPEG-2 transmissions,High resolution upscaling of SDTV (PAL) to 720p or 1080i via HDMI,High resolution OnScreen Graphics designed for HDTV Flat Screens NanoXX Omega HD+ Premiums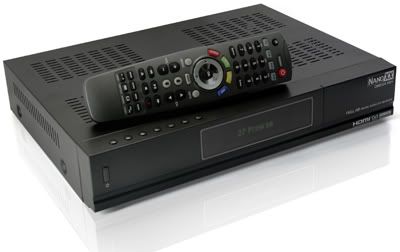 Key Features
* Premiums Digital HDTV Satellite Receiver
* CI+ (Certification in progress, ref. Software Dev. Schedule)
* FULL HD 1080p via HDMI Ver. 1.3
* Twin-Tuner-PVR (2x DVB-S/S2 tuner)
* Internal SATA harddisk-ready
* USB & eSATA PVR-ready
* Network Center (UPnP File Sharing)
* Mediaplayer (MKV, TS, AVI, DivX, XviD, JPG, MP3, etc.)
Product Description
* HDMI Ver. 1.3, 1080p (FULLHD), 1080i, 720p, 576p, 576i selectable
* 2 Common Interface Slots
* 2 DVB-S2 tuners (QPSK & 8PSK) for recording and watching
different channels simultaneously (2 LNB connections required).
* Auto-Loop-Through (if 1 LNB connection available only)
* Hard Disk Drive PVR Ready (for installing an internal SATA 3.5" harddisk), tested up to 2 Terrabyte
* 1x USB2.0 in the frontpanel, 2x USB2.0 and 1x eSATA connections at the backside for external memories, for digital video recording, also HDTV (PVR)
* Network Center Ethernet RJ45 connector (UPnP network file sharing)
* Fastest PVR trick play mode: 2x, 10x, 20x, 60x, 120x during playback
* 7 days Electronic Program Guide (EPG)
* Easy Installation Menu, multilanguage OnScreen-Display
* Games
* Parental Control (PIN)
* DiSEqC 1.0, 1.1, 1.2 & USALS, SCR CENELEC EN50494
* Software Upgrade & Channel list up/download via USB 2.0 and Ethernet
If you are already using Firmware Version 1.10 and higher than you can upgrade directly to the latest firmware version. If you are using older Firmware than v1.10 than please read the older release notes carefully.
NanoXX Omega HD+ Premiums Software : Download
This firmware upgrade includes a Operating System Kernel Update. Please do not power off during upgrade procedure. Your NanoXX OMEGA HD+ Premiums could be damaged seriously if you disconnect power during upgrading. Please remove all cams before upgrading and confirm the OS Kernel Update message after restart to start update.